Learn how to offer your guests a discount for purchasing certain thresholds of tickets.
You can add in 'Tiered Discounts' when creating an event, or after the event has been created. To do so, you will need to navigate to the 'Edit Event' page and go to 'Ticket Types.'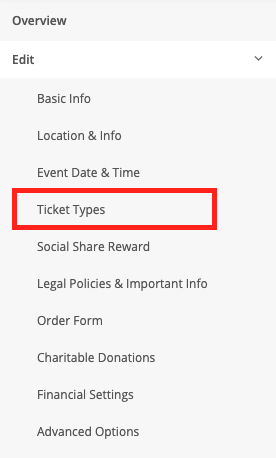 Click on the gear icon beside the ticket type you would like to add the discount for.

On the top menu bar, select 'Tiered Discounts' and then 'Add new Tiered Discount.'
If you don't see the 'Tiered Discounts' option, please reach out to your Client Success Manager or support@showpass.com to enable this.

You will be prompted to fill in the following:
Discount Description: Description for what the discount is used for
Minimum Quantity: The lowest threshold customers must purchase in order to get this discount
Maximum Quantity: The highest threshold customers can purchase to get this discount
Discount Unit: Choose either a percent or a dollar amount
Discount Percent/Amount: The percent or dollar amount that the discount is worth
Discount Availability: You can choose if you want it to be available in the box office, public checkout, or both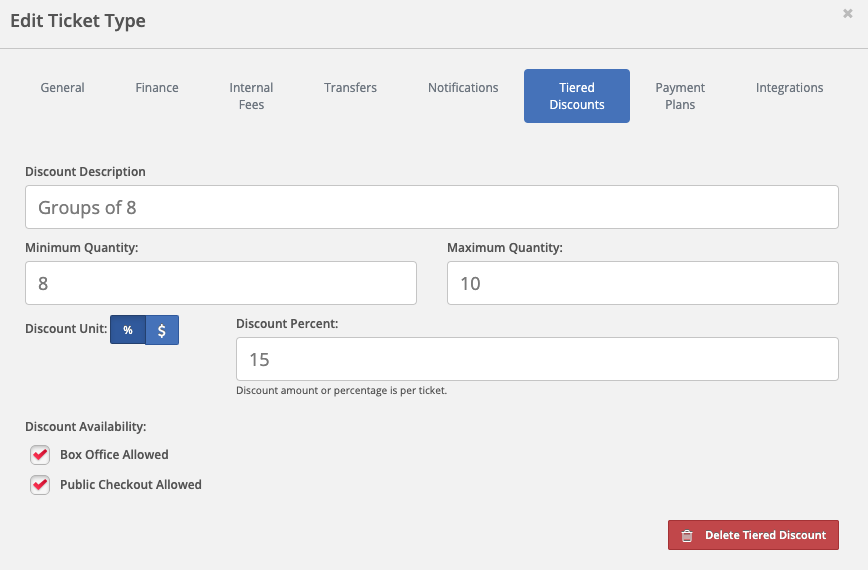 You are able to add as many tiered discounts as you like by selecting 'Add new Tiered Discount.'
Once you have added all of the discounts, click 'Next' on the bottom of the page and you are good to go!
Please note: The discount codes won't compound, only one discount code will be applied.