If someone has misplaced their ticket or product confirmation email, it is easy to resend it to them. To do so, you can do it directly through the event transactions page, or the general transactions page.
Once you have found the transaction, you will want to click on the gear icon, and select 'Re-send confirmation.'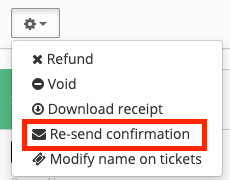 The following will pop up with the customers email pre-populated. Ensure that it is the correct e-mail address and then select 'Re-send.'

The customer will now have a copy of their misplaced items!