Once you have created and saved your event, you can go back into it and access the Advanced features to set up Auto Release on specific ticket types.
To do this, you will need to go to 'Edit' your event and select 'Ticket Types.'
From here you are able to name your tickets, as well as set the inventory, price, and visibility settings.
Your visibility options are:
1) Public: Tickets are visible to the public, listed on the event page.
2) Hidden: Ticket not listed on the event page, not visible to sellers.
3) Sellers only: Tickets not listed on the event page, visible to sellers.
4) Public only: Tickets listed on the event page, not visible to sellers.
Example
You would like Tier 2 to be released when Tier 1 hits a specific threshold so you will set the auto release on the Tier 1 ticket type.
Click on the gear icon beside the ticket type that will be going on sale first. Make sure visibility is set to 'Public.'
Please note: The ticket type(s) you want to release later once the threshold has been crossed will need to be set to 'Hidden' or 'Sellers only.' Visibility will need to be updated later once those ticket types go on sale.

Select Auto Release from the menu at the top of the pop-up.

You will then input the release limit on the current ticket type, and which ticket type will be released once it has been hit and select 'Add.'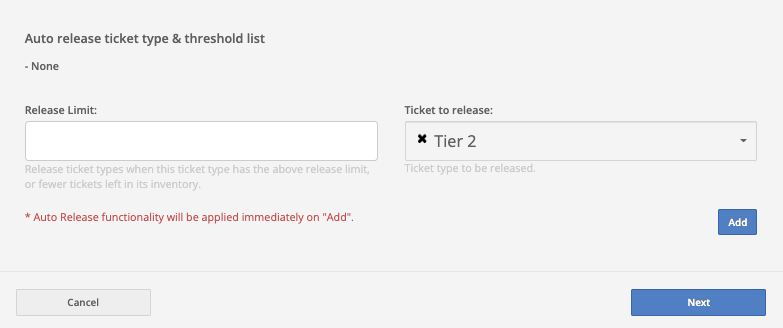 Once you have selected 'Add,' you will see the auto-release displayed above where you initially added it. If you want it removed, simply select the 'X' beside it.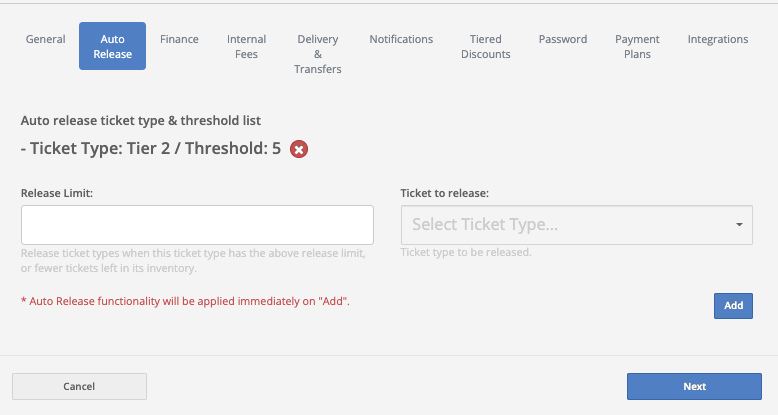 Once your auto release is set, the next tier of tickets will be auto released once the threshold you set has been met.