Learn how to change names on tickets for your guests
1) Navigate to your Transactions Page
2) Search for the transaction that you want to change the name on the tickets for
Here are a few ways you can search on the Transactions Page:
- Buyer Name
- Email Address
- Last 4 digits of the credit card used to purchase the tickets
- Invoice ID
- Date of Purchase
- Payment Type

3) Click on the gear box and navigate to Modify name on tickets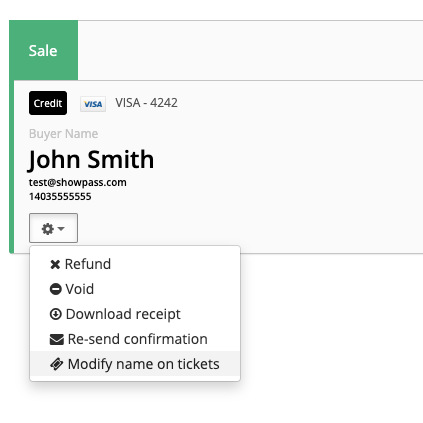 4) Now, you can choose between Bulk or Individual changing name on tickets:
Bulk: Update the name on all the tickets at once
Individual: Update the name on the tickets one at a time
5) If you are changing the tickets individually, you have two options to change names.
Tickets Grouped Under: This will change the name the tickets are all grouped under.
For example: If one person is picking up the tickets for all their guests, this will be the name you would look up to find who the tickets are under. It will appear on your Check-In Page when searching for tickets.
Name on Ticket: This will change the name on the actual tickets the customer receives
6) Click

and you are good to go!