Resend misplaced or deleted tickets or products and receipts to customers.
Resending Email Confirmations
First, go to the Event Management page and select Transactions on the relevant event. Alternatively, you can use the Transactions button on the top right to get a full list of lifetime transactions for your organization.

Use the search bar or available filters to find the customer you're looking for, and then select the gearbox on the lower left of their invoice tile.
This gearbox also allows you to re-send confirmation of a purchase to a customer, which is the easiest way to get a customer their tickets if they have misplaced them or deleted the original email. Simply select the Resend Confirmation option.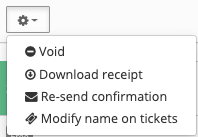 Make sure to double check the email address (there may have been a typo in the email address if they never received the order in the first place), and then click Re-send.