Learn how to add and manage your team with customizable permissions and roles
Employees Page
The Employees tab in the Pop Out Menu (left hand side, under Settings) is where you'll need to go to start managing your employees.

Adding Employees
Select the Add Employees button in the top right corner, this will open a box in the middle of the page where you'll be able to start entering your employee's information.

You'll need to enter the employee's:
First Name
Last Name
Email Address
Phone Number (Not Required)

To add several employees at a time, you can either select the Add More Employees button and manually enter information, or Upload CSV to upload a sheet with one line per employee.
Please note, the requirements for the CSV can be found by selecting the question mark next to the button.

Before you select the Add Employee button, you'll need to select a role for the employee(s). The various defaults are:
Owners: The owner of the organization account and has access to every feature on Showpass
All Access: Have access to every feature on Showpass but is not the owner of the organization account
Ticket Sellers: Have limited access and is only able to sell tickets through the Box Office
Ticket Scanners: Have limited access and are only able to scan tickets for an event
Past Employees: Have no access and was a former employee - this is often used to maintain people who have left the organization in your system.
If none of these roles fit, read below to create your own roles and permissions.
Managing Permissions and Creating Roles
You can add new permission types by selecting the Manage Permissions button in the top right.

Here, you'll see a table with each permission in its own row and the roles as their own column.

Editing Roles
To edit an existing role, simply select the symbol in the corresponding cell. For example, if you want Ticket Sellers to also scan tickets, you'd select the X in the Scan Tickets row and the Ticket Sellers column.
Creating Roles
To create a new role, select the Manage Roles button in the top right.

Your Roles Manager will open on the right side of the screen. Adding a new role is easy, just enter the name in the New Role field and select Add.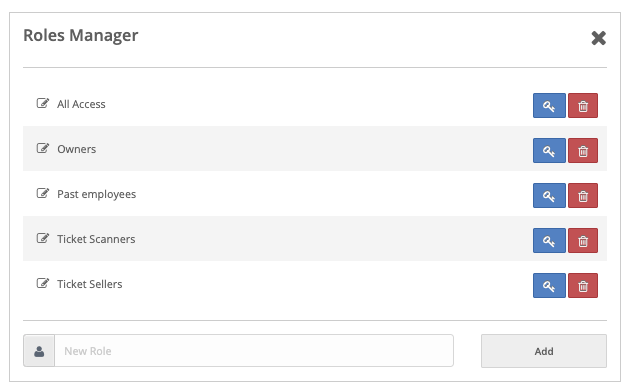 Once that has been created, your role will become a new column in the Manage Permissions table and you can select the applicable cells.
Editing Individual Employees & Alerts
You can change the assigned role at any time, just simply select the Pen & Paper icon next to the employee's name.

This will open up their profile where you can edit their role as well as sign them up for any alerts. Just click Save when you're done.