The transfer function can be found under the Purchases menu
To transfer tickets, log into the account where you initially purchased the tickets. Once logged in, click your username in the top right corner and select Purchases. You will see a Transfer button on the left hand side. If you are on the mobile app, you will need to open the hamburger menu beside the search bar.
​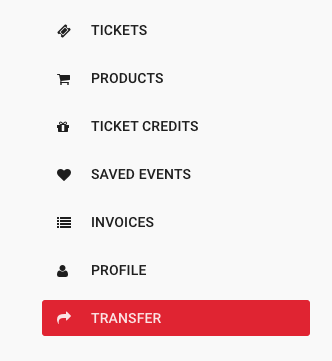 ​
Once you are on the Transfer page, you can search for events or products, and send them all in one transfer. Once you find the event or product you want to transfer, click Select Ticket Items and a menu will open where you can select what tickets/products you wish to send.
Once all of your tickets and products are selected, simply click the blue Select Recipient button, review your transfer items, and click Send Transfer.
Please note, tickets can only be transferred once.
​