** You will need Edit Venue Info and Manage Financials permissions to make these changes.
You can set a custom commission value as a default at an event level and control individual ticket type commission levels. Commissions are added as a dollar amount on top of the face value, kickback and service fee.
** These commissions are only applied when selling through the Staff Box Office via desktop and mobile app.
Setting an Event's Default Seller Commission
** By default, all commissions are set to $0.00
When editing an event, scroll down to Financial Settings. Here, you can set a default seller commission for both cash and credit payments that will be applied to all ticket types within that event.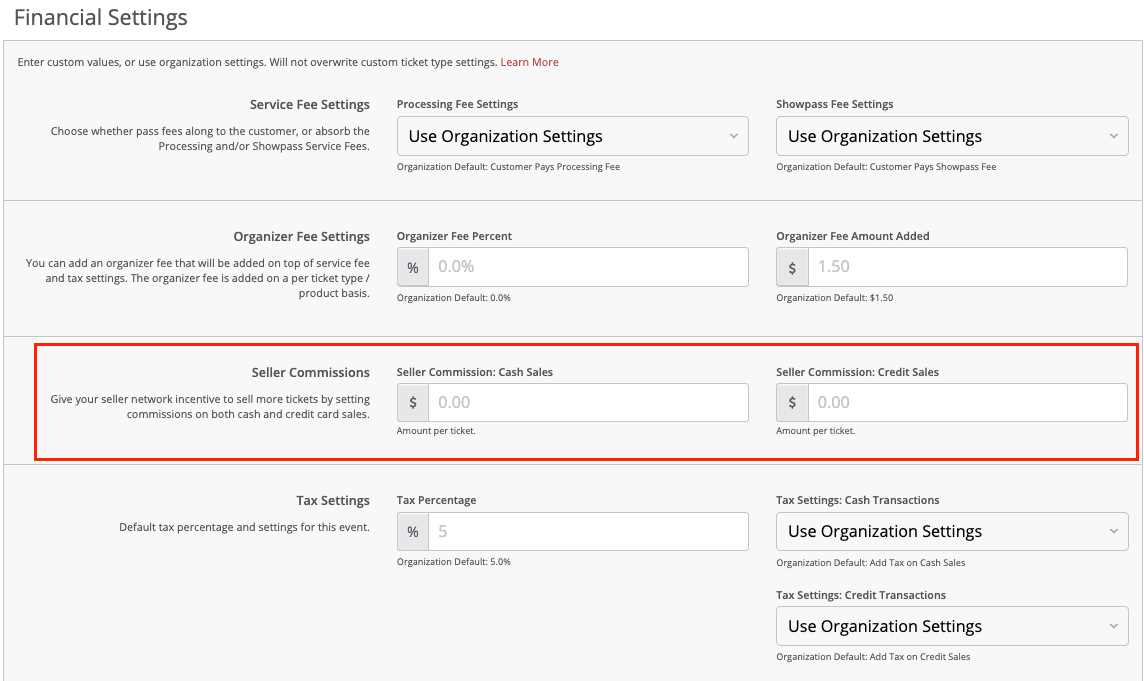 ** Updating Event Settings will not overwrite custom values for ticket types.
Setting an Ticket Type's Seller Commission
When editing an event, open the Advanced Ticket Type Options Dialog by clicking the gear icon on the right side of the ticket type
By default, the ticket type will be set to the event's default value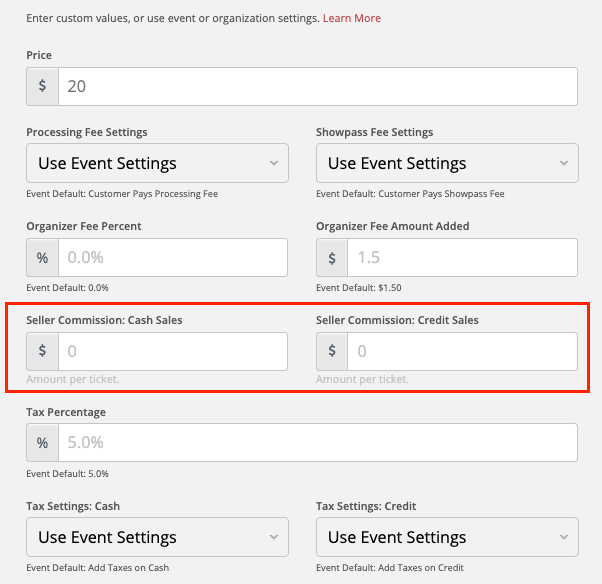 Tracking Seller Commissions
By clicking the Stats & Info button while on the Manage Events page you can view a total amount of seller commissions for that specific event.


Commission Breakdown by Individual Seller
If you want to view a breakdown of sales for each Seller, navigate to the Seller Stats page.
Click the gear icon from the Manage Events page, and then click Seller Stats from the dropdown menu.

Alternatively, you can also click the Seller Stats button from the Event Stats page

Here you can see how much gross sales and revenue your sellers have generated for each event. You can also see the amount that your team owes you for cash sales.

Click on a sellers name to expand their data and see a breakdown per ticket type

You can now see a breakdown of commissions and the amount you need to reconcile with each seller.