Showpass now offers the use of MC Print 3 Series printers for your event!
Pairing the Printer (TSP 650 II and MC Print 3 models)
Both the TSP 650 II and MC Print 3 models support printing via Bluetooth.
Make sure the printer is connected to a power source and turn it on by pressing the power button on the front.
Open the 'Settings' app on the iPad and ensure that Bluetooth is enabled on your iPad.
Under Bluetooth in 'Other Devices,' select the printer. It should then appear under 'My Devices' and say 'Connected' next to the device name to show that it has been paired.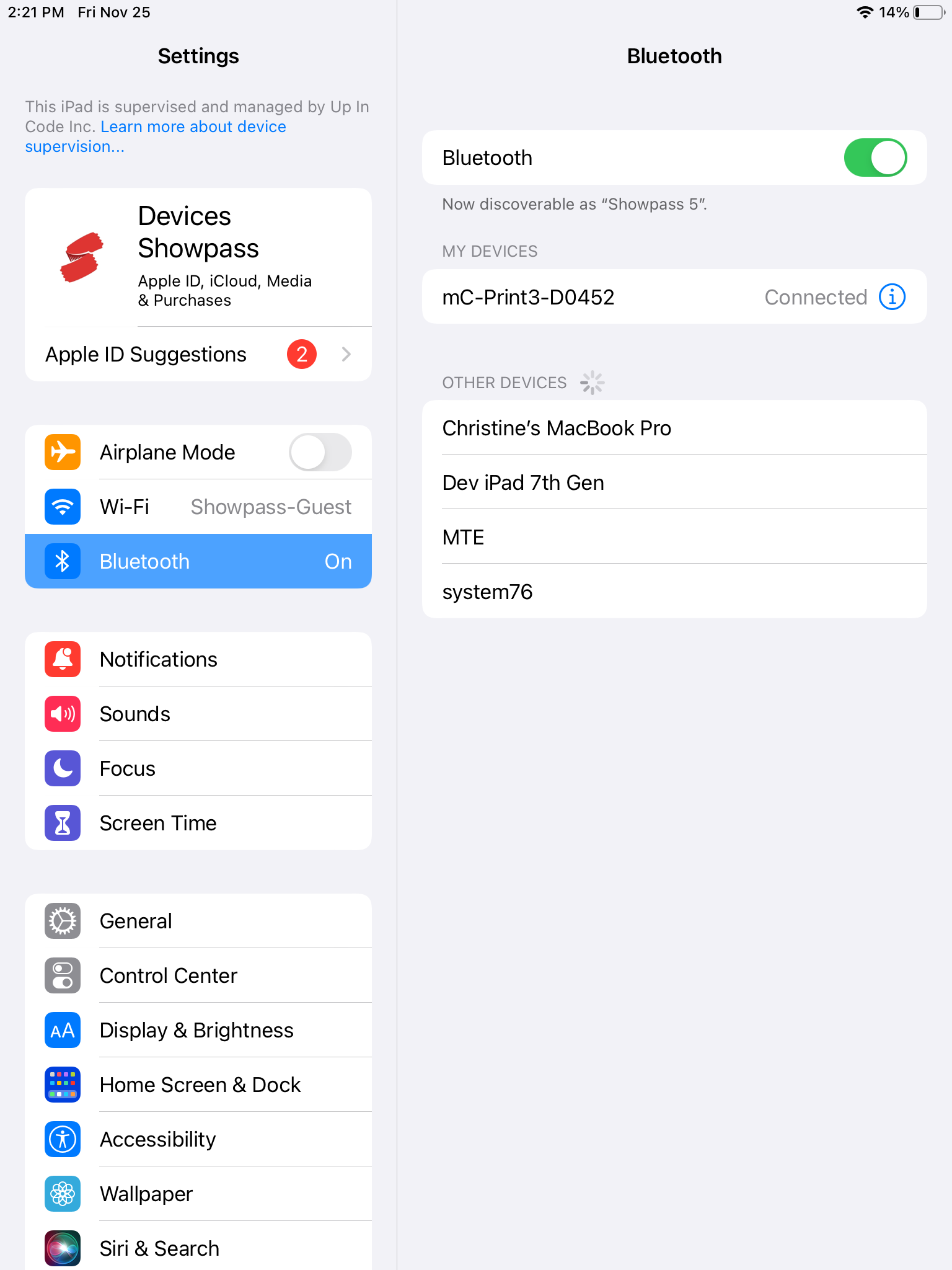 You will also have to scroll to the Showpass POS app in 'Settings' to change the printer source to the desired printer.

Changing the desired printer model will require you to restart the POS app.
Click here for more information on pairing TSP 650 II printers.
Click here for more information on MC Print 3 printers.
Point of Sale App
Once paired to your iPad, the basic process within the Point of Sale app is the following:
1. The printer icon with a green checkmark indicates that the printer is connected successfully.

2. Tapping on the icon will display a popup confirming the paired status.
3. If the printer disconnects you will see a printer icon with a red cross icon.

Tapping on the disconnected printer icon will bring up one of two popups. If you have not previously selected a printer, you will be prompted to chose one.
Or, if you have previously selected a printer within the app, then you will be prompted to double-check the pairing status though the settings app.
Troubleshooting Questions
Be sure to click here if you have any troubleshooting questions related to the TSP 650 II model printers.
Troubleshooting information related to the new MC Print 3 model printers can be found here.