Here you are able to add a payment plan to your ticket types if they have been enabled for your account.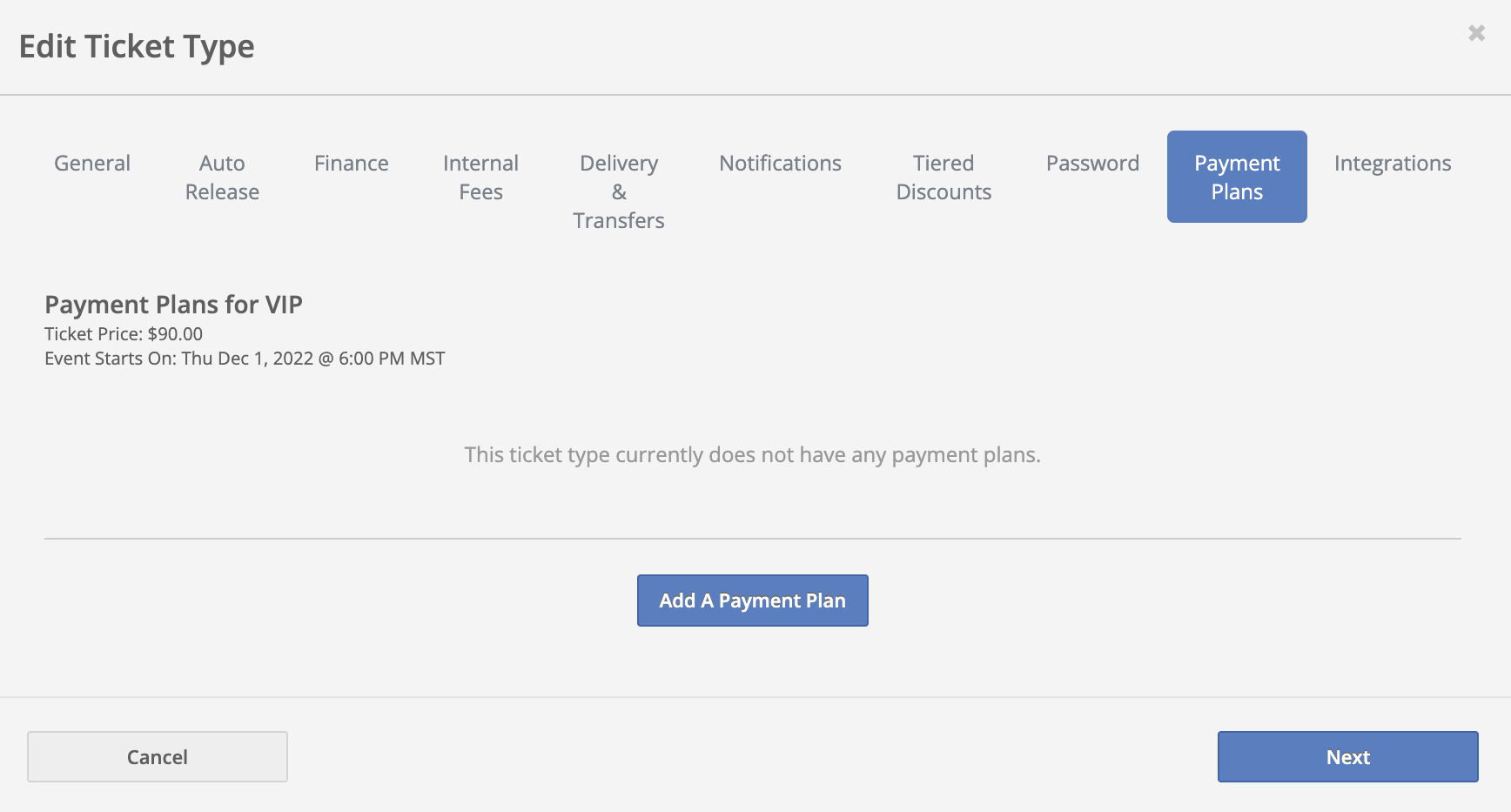 You are able to fill in the following:
Frequency of Payment: This can be toggled between weekly payments or monthly
Day to Bill Customer On:

If frequency is weekly: Can choose the day of purchase OR can select a day of the week
If frequency is monthly: Can choose day of purchase OR any date within the month

Number of Instalments: Number of instalments range from 2 to 18
Visibility: Visibility can be set as 'Public', 'Hidden', 'Visible to sellers only', or 'Visible to public only'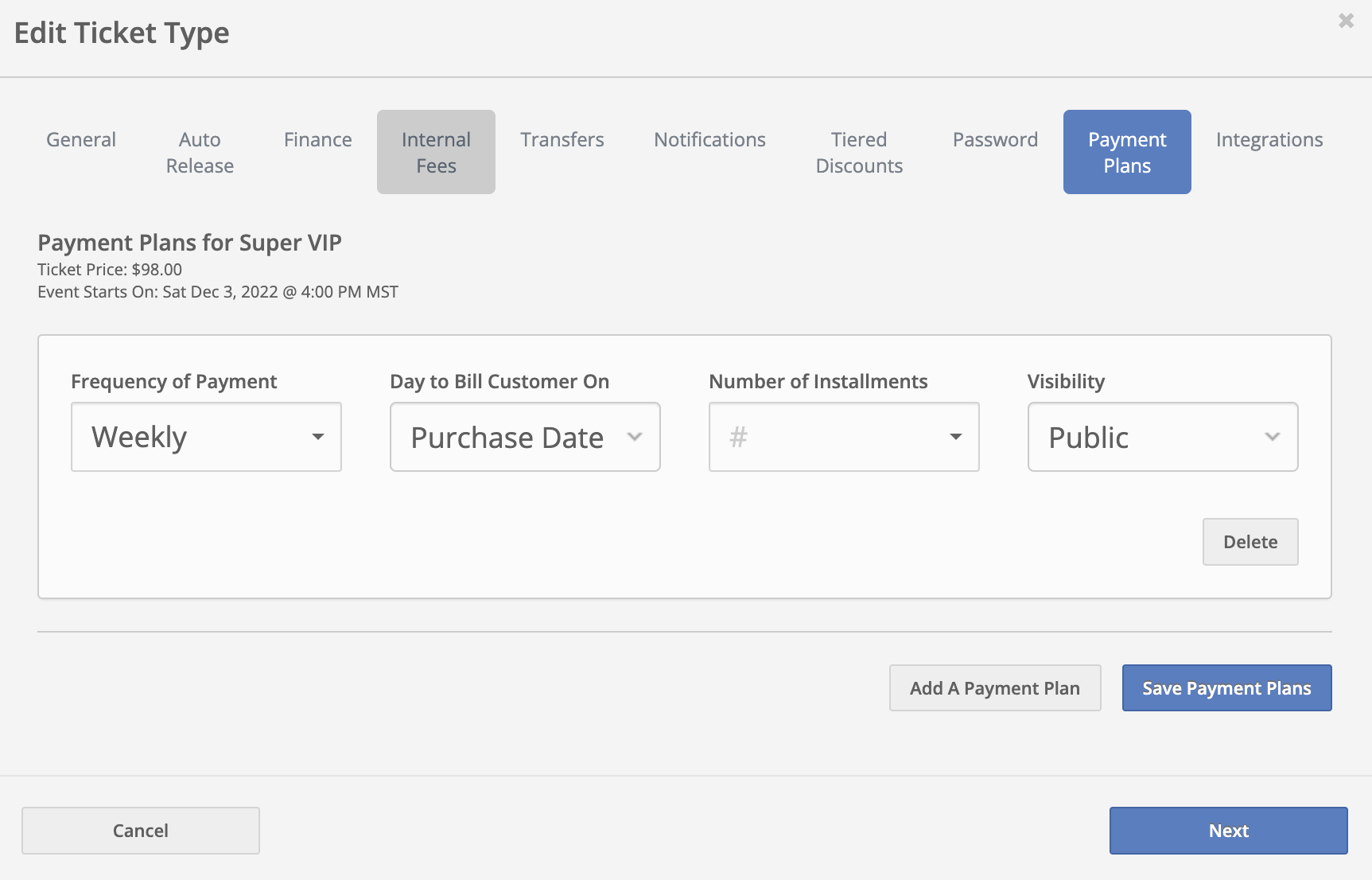 Once you have everything filled out, you can choose to enter in a start and end time to allow for payment plans as well.

Once everything is filled in, select 'Save Payment Plan.'
A green success message will appear in the top right hand corner if the plan has saved successfully.
Payment Plan Rate Cards
Payment plan rate cards are found under both the web and widgets tabs. To add and update them, you will need to go to 'Internal Fees.'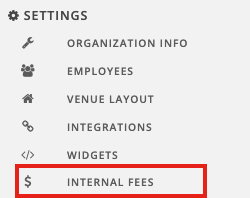 You can then add in a rate card for payment plans for both 'Payment Processing Fees' and 'Showpass Fee' under 'Web' and 'Widget.'

Once the fee settings are entered, select 'Save' and the rate card will begin to apply.
Customer Facing
If payment plans are enabled on a ticket type, the ticket will display a message letting customers know they will have the option at checkout.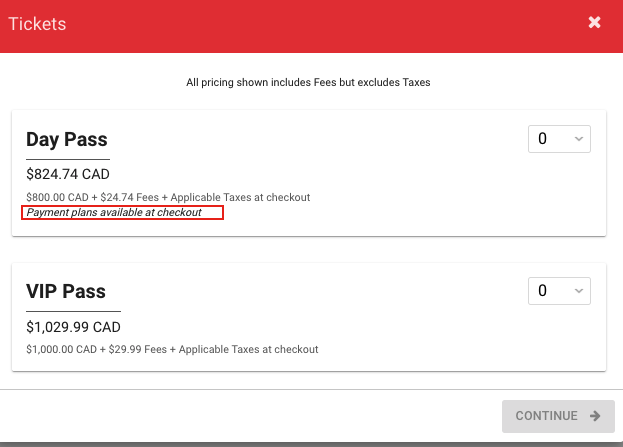 During the checkout process, the ticket buyer will be able to choose if they want to pay for the tickets in full, or utilize the payment plan options. It will show them what their monthly payment will be and the date that they will get billed until.
Please note: Tickets aren't distributed until the payment plan has been fully paid off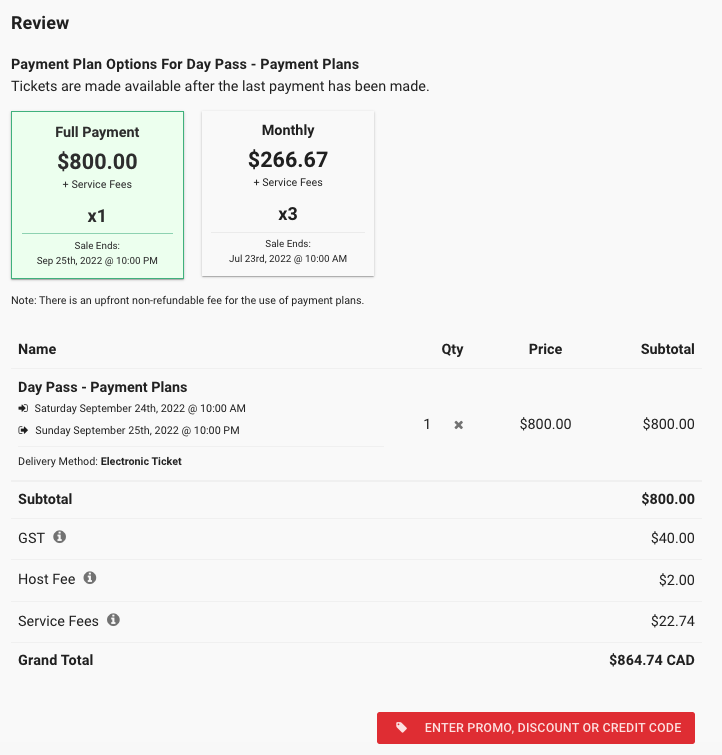 The customer will need to remember the payment plan schedule as they are unable to check to see what dates they get billed on. Showpass staff are able to check the dates in Stripe if there is a reach out.
Please note: Our Showpass / Processing fees are calculated on each payment, so the $ amount will be added to each payment. Showpass / Processing fees are charged on each instalment of a ticket package.
Recurring Events
For recurring events, add a payment plan to each individual ticket on the child event. It won't work by just adding a payment plan to the parent event/ticket.