General Information
Zebra scanners are used for events that experience high volume, such as large scale festivals and sporting events since they scan barcodes faster than regular camera scanners and have about a 12-hour battery life.
Classified as TC26 Mobile Computers, they are Android devices that take either a USB-C charge or charge in a Zebra power bar.
Setting Up
Getting Started
No login or passcode is required to access the device. Just press the button at the top of the device and swipe up to enter.
Connecting to Wifi
You will first need to ensure that your Zebra scanner is connected to wifi. Once you have accessed the Zebra home screen, swipe down from the top and click on the button in the top left corner to access your wifi options, just like a regular Android device.
Please note: You can use the device offline, but you have to connect to wifi first and then select offline once in either the Gold or Red App.
Setting Up Time Zone
In 'Settings,' which is accessed by swiping up from the bottom on the home screen, click on 'System,' and select 'Date and Time.' You can select your time zone here.
Please note: If you are having issues with timezones, clear the cache to resolve the issue.
How to Use
Once you are in the device, you can login and use the Gold App with either the Camera or the Optical Scanner.
Please note: While the apps will appear the same on Zebra Scanners as on phones, there is one difference. When you are ready to start scanning, you will be taken to the following screen. It provides the additional option for the 'Optical Scanner,' which is unique to the Zebra Scanner. To use the 'Optical Scanner,' press the side button.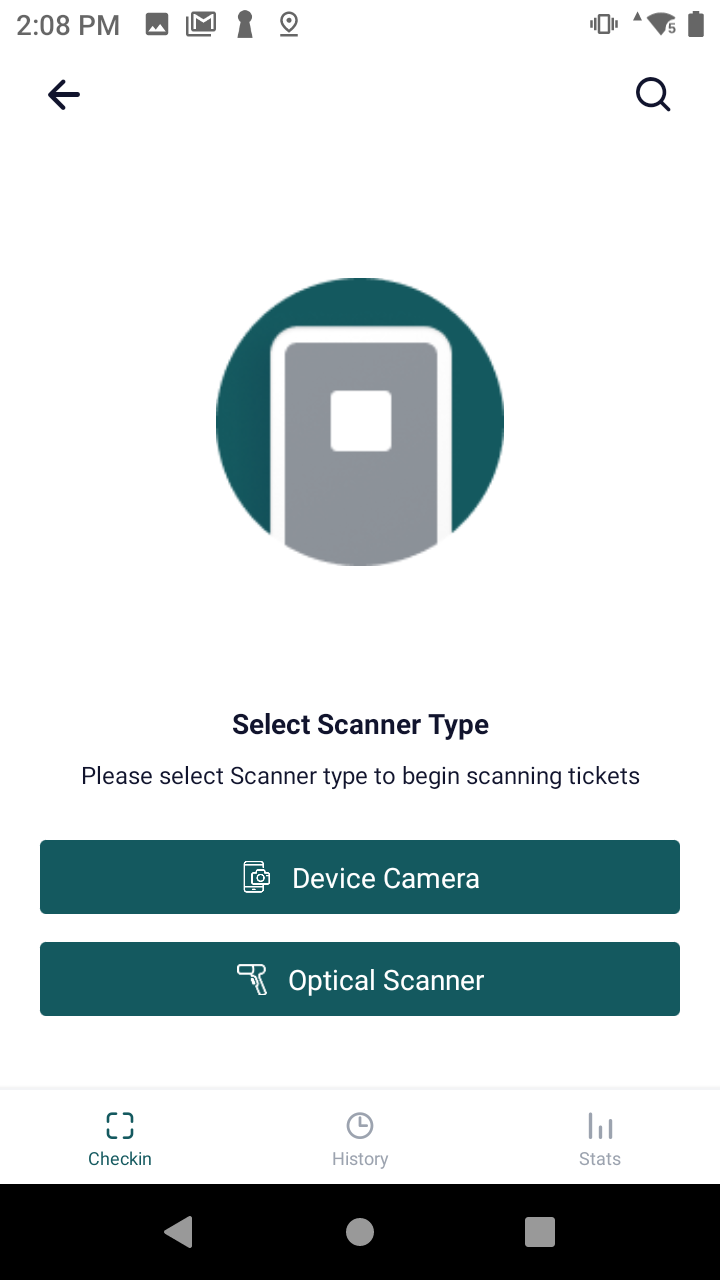 Other Options
Pressing the square in the bottom right corner will show all tabs open, and allow you to close them.
Pressing the circle in the bottom middle will take you back to the home screen.
Pressing the triangle in the bottom left corner will take you back to the previously visited page.
Troubleshooting
If you are experiencing issues, such as logging in or setting time zones, then you will need to clear the cache. To do this, swipe up from the bottom to access 'Settings.' Select 'Apps and Notifications' to see all 53 apps. Select the Showpass app you are experiencing issues with. Click 'Storage and Cache' and choose 'Clear Storage.' The option clears both storage and cache and should resolve your issues.